Simply Beer Kits 1.8kg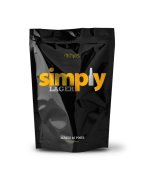 Simply Beer Kits are packed in a plastic standing pouch. This is to enable us to use a minimum of packaging material, both for our environment and for a better price. This is perfect for mail order as you cannot dent a pouch. Although it is a budget kit, we have not saved in on cheaper yeast. This kit contains brewery yeast, a little slower than cheap beer kit yeast, but it creates a much better result. Full instruction on back of pouch.
Each beer kit requires 1kg of brewing sugar.
New Products - Beer/Cider Kits