Cellar 7 day wine kits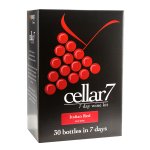 'Cellar 7' wine kits are created from the finest European grape concentrates.
With the manufacturers many years of expertise, they have put together some of the most popular styles available, bringing the whole winemaking experience direct into your home.
This wine kit requires only water and will be ready to drink in 7 days.
Constantly improving with age, and suitable for all occasions.